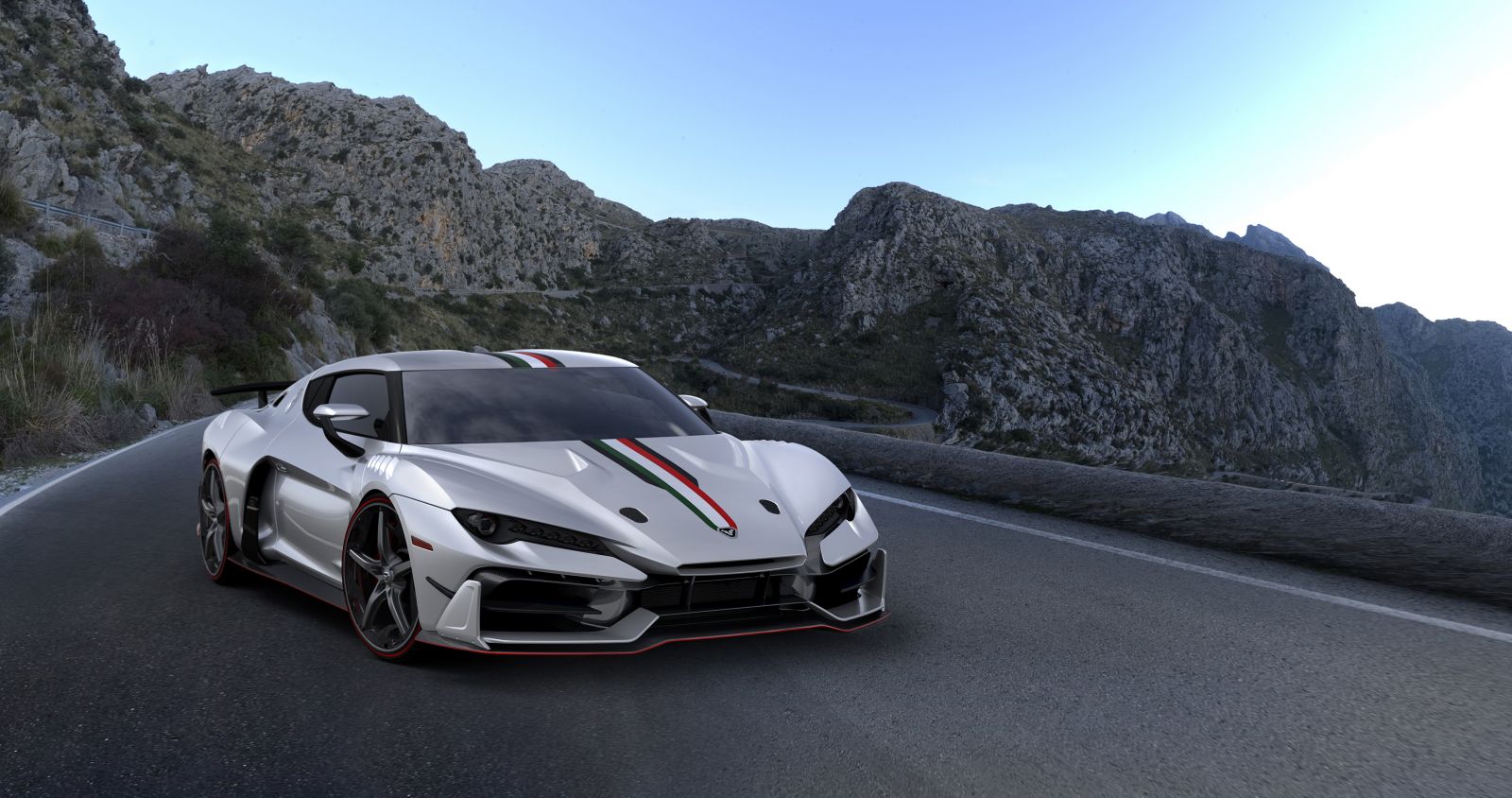 Intended for collectors and visionary enthusiasts, Italdesign Automobili Speciali Zerouno combines racing car features and performance alongside type-approval for use on normal roads.
Unveiled to the world during the 87th Geneva International Motor Show in 2017, Zerouno is the first car born under the new brand Italdesign Automobili Speciali.
Intended for collectors and visionary enthusiasts, it will be built in only five units. The Zeoruno combines racing car features and performance alongside type-approval for use on normal roads. Developed around a modular chassis in carbon fibre and aluminium, this special car boasts a powerful naturally aspirated 5.2 litre V10 engine which enables 0-100 km/h acceleration in just 3.2 seconds, together with a top speed of 330 km/h. The bodywork is entirely in carbon fibre. The car measures 4847 millimetres in length by 1970 millimetres in width by 1204 millimetres in height.
"Lightweight". This was the starting concept that designers and engineers implemented for the Zerouno project. Right from the first styling draft, the Styling Centre and the Engineering Development Department implemented what is defined as simultaneous engineering, a work method developed and perfected by Italdesign way back at the end of the 1960s and constantly improved over the company's almost fifty-year history.
Designers and engineers work simultaneously to carry forward styling solutions and functional-feasibility checks until an ideal compromise is achieved that meets design and performance requirements alike. Functional design has always distinguished projects set in motion and developed in Moncalieri: there are no styling proposals at Italdesign that do not also simultaneously embrace a technical solution.
Endless customisation
The five lucky owners of Zerouno will be able to maximise the customisation of their cars so that each one will be truly unique. Over and above finishing the bodywork with a colour specifically developed for the client, including full carbon look, Italdesign has also developed several optional packages involving the exterior and inside the cockpit.
Pirelli P-Zero
Not only was the Zerouno's front design inspired by the single-seater racing cars, the tyres too have a direct motorsport link. Italdesign chose Formula 1's exclusive tyre supplier, Pirelli, to equipe its first Automobili Speciali model. The engineers developed a dedicated version of the high-performing Pirelli tyres, the P Zero, in 245/30 R20 for the front and 305/30 R20 for the back.
Featuring High Working Range tread compounds, able to guarantee maximum grip in all conditions, Zerouno's dedicated tyres belong to the new line of coloured tyres, premiered in Geneva by Pirelli. The new Pirelli tyres will be available in four different colors: white, red, yellow and metallic grey.
The special alliance with Roger Dubuis
The world launch of Zerouno involves an alliance between Italdesign and Geneva watchmaker Roger Dubuis, renowned for its avant-garde approach to design and engineering, to create an exclusive eight-piece, proudly Italian collection of the brand's iconic Excalibur Spider wrist watch. Produced in hi-tech and innovative materials such carbon and ceramic, the Excalibur Spider Italdesign Edition perfectly represents the forward-looking attitude that ideally unites Italdesign and Roger Dubuis in their respective industries.
Download: full press kit and hi-res pictures.