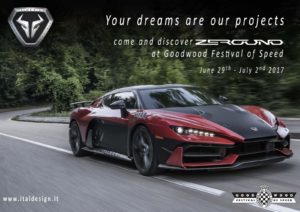 Italdesign will be taking part to the 2017 Goodwood Festival of Speed with both Pop.Up and Zerouno, the two projects internationally acclaimed during the last Geneva Motor Show.
Zerouno arrives for the first time in UK directly from Nardò circuit in Italy where homologation dynamic tests on track were performed.
The Zerouno test car will take part to the "Supercar Run Demonstration Runs". The car will be produced in only five units, for five exclusive and lucky car collectors.
«After the presentation in Geneva and the perfoming test in Nardò – Filippo Perini, Head of Innovation Design, said – Zerouno comes for the first time in UK. This very model is not one of the five to be sold but it has been built to perform all tests necessary to achieve the homologation to legally run on the street».
Zerouno's performances makes it a real sportscar: it runs from 0 to 100 km/h in 3.2 seconds, thanks to it modular carbon-fiber and aluminum chassis, its ultralight full carbon-fiber body and its V10, 5.2 litres engine with 610 hp.
People visiting the open-air English motor show will have the chance to take a close look to Pop.Up, the concept for future mobility, for the four days of the exhibition.
The three elements that compose the system will be displayed inside the FoS Future Lab.
Developed in collaboration with airspace industry leader Airbus, Pop.Up consists of a three layers concept:
– an Artificial Intelligence platform that, based on its user knowledge, manages the travel complexity offering alternative usage scenarios and assuring a seamless travel experience;
– a vehicle shaped as a passenger capsule designed to be coupled with two different and independent electric propelled modules (the ground module and the air module). Other public means of transportation (e.g. trains or hyperloops) could also integrate the Pop.Up capsule;
– an interface module that dialogues with users in a fully virtual environment.
«We're proud to have the chance to bring Pop.Up into such an important exhibition dedicated to the many car lovers and collectors – CEO Jörg Astalosch said – Pop.Up is a project we deeply believe in and we think it might change our way of living in the next future.
Visitors can live a first-person experience on board, interacting with the AI demo onboard the capsule for a virtual tour in the main megacities of the world and watch an immersive and interactive virtual 3D video of Pop.Up with Oculus Rift.