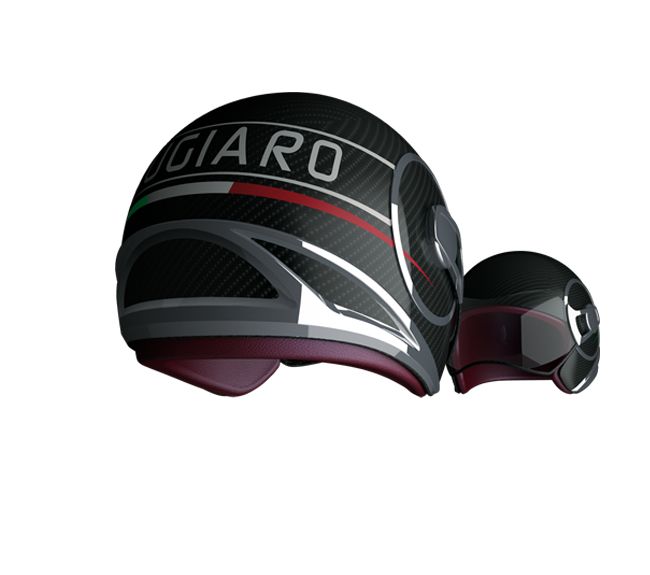 The 2011 Giugiaro Stelvio Motorcycle Helmet is hand-crafted in Italy with hi-tech protection research and accentuates the perfect combination of functional elements and Italian style. Good Design Award 2010.
The shell of the helmet is made of hi impact resistant plastics, accentuated by structural styling elements coupled with the distinctive Giugiaro logo under an environmentally friendly clear or rubber touch matte finish.
Its heat-formed, anti-scratch visor is attached through a sophisticated magnetic mechanism that ensures functionality and ease of removal similar to a pair of eyeglasses.
The interior liner is an advancement in comfort, safety and technological break-through coupled into one. The liner is removable, washable, antimicrobial, antistatic, quick-dry, thermo-regulating which maintains a constant temperature for the duration of the ride, and reflective material in the neck roll and chin areas for added nighttime visibility from oncoming traffic. The chin strap is made from the same material used in automotive safety belts and it's double D dual loop fastening system ensures a proper closure.
The helmet is offered in a Giugiaro Design logo embroidered white cotton helmet bag placed in a hard cardboard box with magnetic closing and easy carry fabric handle that ensure that the helmet travels and stores safely.
Winner of the Good Design Award 2010, "Protective Equipment" category.