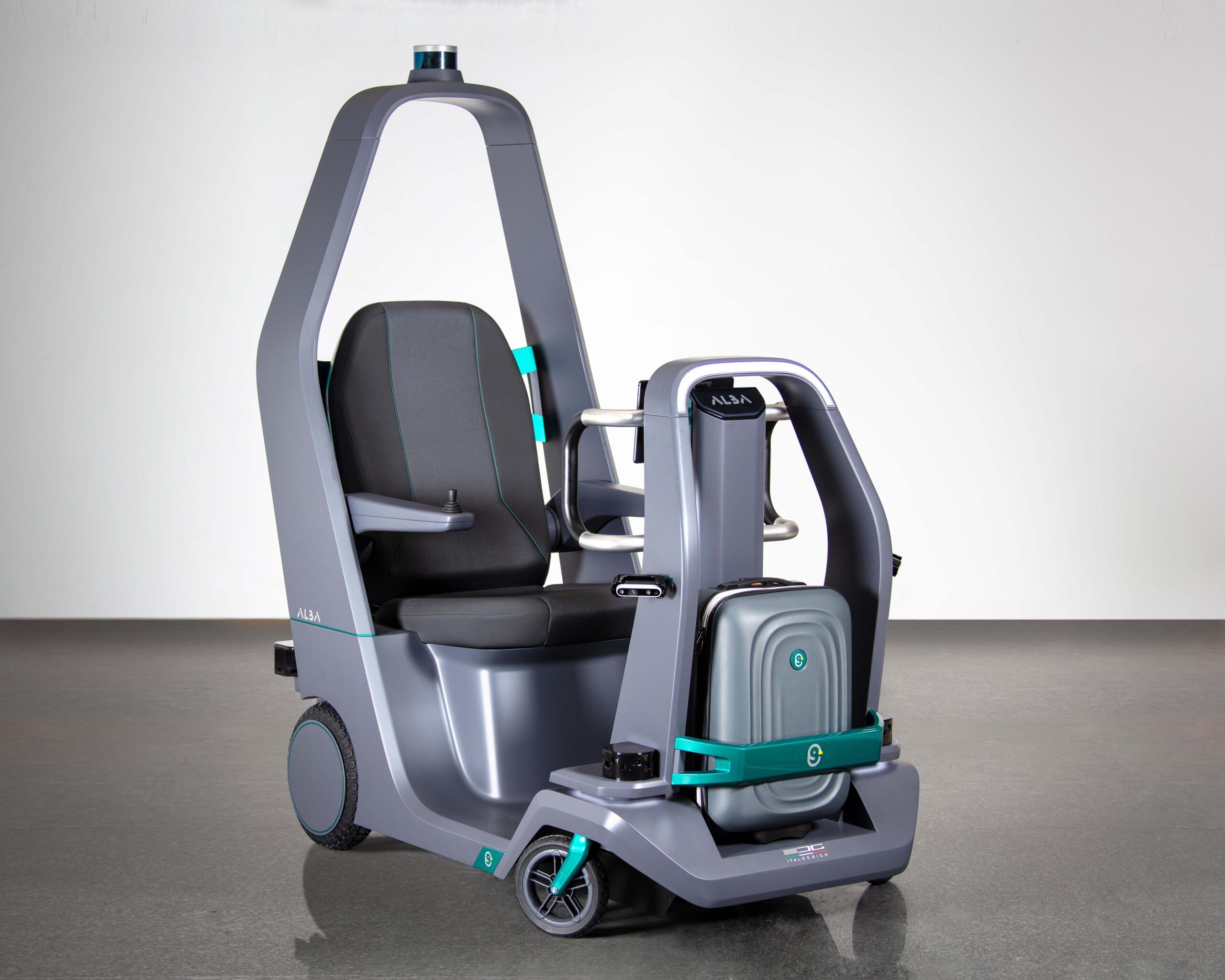 SEDIA (SEat Designed for Intelligent Autonomy) is a mobility project by ALBA Robot for a line of vehicles
designed for micro-mobility within structures, mainly hospitals and airports, but with much wider possibilities of use, if we include stations, museums, convention centers, shopping or exhibition centers.
For its model, Italdesign developed the aesthetic research, set up the package and ergonomics, carried out the feasibility studies and built the demonstrator .
"Functionality, purity of forms, balance, ease of interpretation are the design foundations that characterize our brand. We apply them to each one of the projects we work on and they can also be recognized in our SEDIA variant developed for ALBA Robot", stated Nicolas Bussetti, Italdesign Senior Industrial Designer.
Refined in the treatment of shapes, for an aesthetically appealing and friendly result, while being devoted to functionality;
illuminated by light accents present on the front and rear ends and distributed laterally at the front wheels level, in the form of ambient light;
dimensionally studied working on a large percentile, to reach the widest possible audience by offering maximum comfort and a high level of usability;
practical, for getting in and out of the vehicle, thanks to the fixed structural handle, which the user can decide to lean on when entering or leaving, and the retractable armrest, which houses the joystick for assisted driving;
safe and agile even in crowded contexts, thanks to the wide field of view guaranteed mainly by the Lidar sensor, positioned in a privileged point, very high on the rear structure that houses and protects the user's seat, but also by the four perimeter sensors, which cover the blind spots on the side of the vehicle, to which are added two cameras positioned halfway up the front structure.

"Among the seven color & trim proposals we worked on and presented to ALBA Robot", Nicolas Bussetti concluded "the sober and elegant color palette of the final setting, with the combination of gray and petrol green accents, was the most convincing on the basis of the definition of the personal and professional profile of SEDIA's end users".