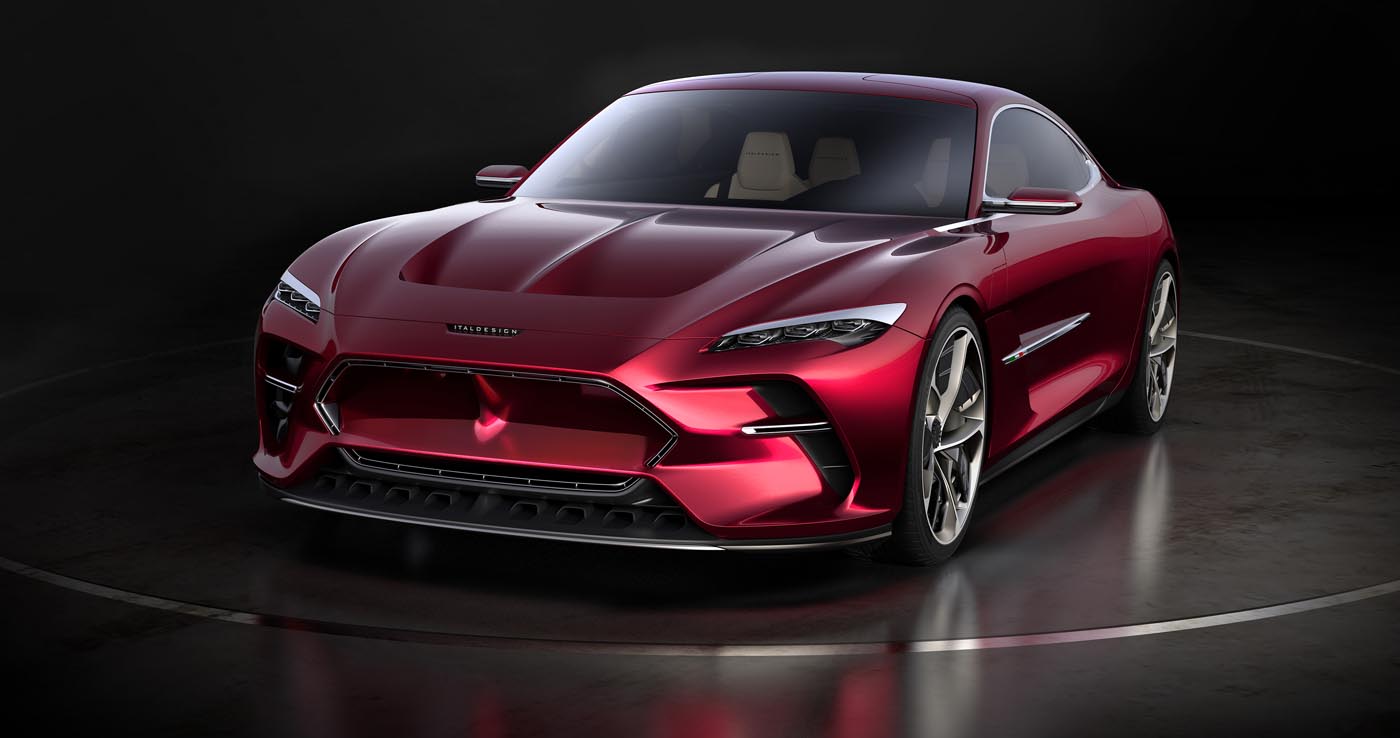 In the five-hundredth anniversary year of Leonardo's death, Italdesign dedicates its 2019 showcar, the Italdesign DaVinci, to the Italian genius.
The DaVinci is a design concept for a Gran Turismo with a 100% electric drive. Its sporty nature combines with utmost refined elegance in both its exterior lines and interior design, placing it firmly in the premium segment.
Measuring 4,981mm in length and 2,124mm in width, it can comfortably seat four passengers. Its 2,900mm wide wheelbase and reduced overhangs confirm its sporting focus also in aesthetic terms, emphasised by a ground clearance of just 119mm.
In keeping with its tradition, the Italdesign Innovation Design Department headed by Filippo Perini, conceived the design of this concept car so that with just a few adjustments it can easily be adapted to series production and the family feeling of several brands. The few 'exotic' features typical of a showcar are concentrated in the expansive gullwing doors, which allow both the front and rear seats to be accessed at the same time, as well as in the rear optical units and aerodynamic lateral tailfins integrated in the doors.
Biodynamic design as an inspiration for the exterior styling
Contrast is a key aesthetic leitmotif of the DaVinci's overall design: the final effect is that of a classic, harmonious, well-proportioned and elegant premium vehicle, while some details, such as the front end or rear optical units, represent strongly discontinuous elements.
The fully electric setup has allowed the designers to reinterpret some elements of Italdesign's recent models, taking them to extremes. For example, this is the case of the Y Duct, included for the first time in the 2017 Zerouno. The DaVinci's bonnet air duct system is clearly a more prominent feature. Since no traditional radiator grille had to be incorporated, the apertures that form the Y Duct in this case occupy much of the vehicle's front end and bonnet surface, determining its general design.
The vehicle's rear end expressly evokes the Italian GT tradition, featuring a classic truncated tail, which combines an aesthetic element with aerodynamic function. The active spoiler, located above the optical units, features a wraparound design, extending to the sides.
Interiors: quality is the true luxury
The interior design is in keeping with the DaVinci's premium positioning, combining technology with exclusive materials, emphasising passenger space as a true added value.
There are three screens incorporating all major functions, from infotainment to travel data, from climate control to driver and passenger comfort. Passenger compartment climate control is regulated through hexagonal vents set into the dashboard.
Thanks to the partnership with Alcantara, a registered trademark of Alcantara S.p.A., the Color&Trim Department has successfully transformed the upholstery of the central part of the dashboard into a display surface. The icons for the underlying buttons and vehicle temperature gauge emerge back-lit from the Alcantara fabric.
Download the press kit here