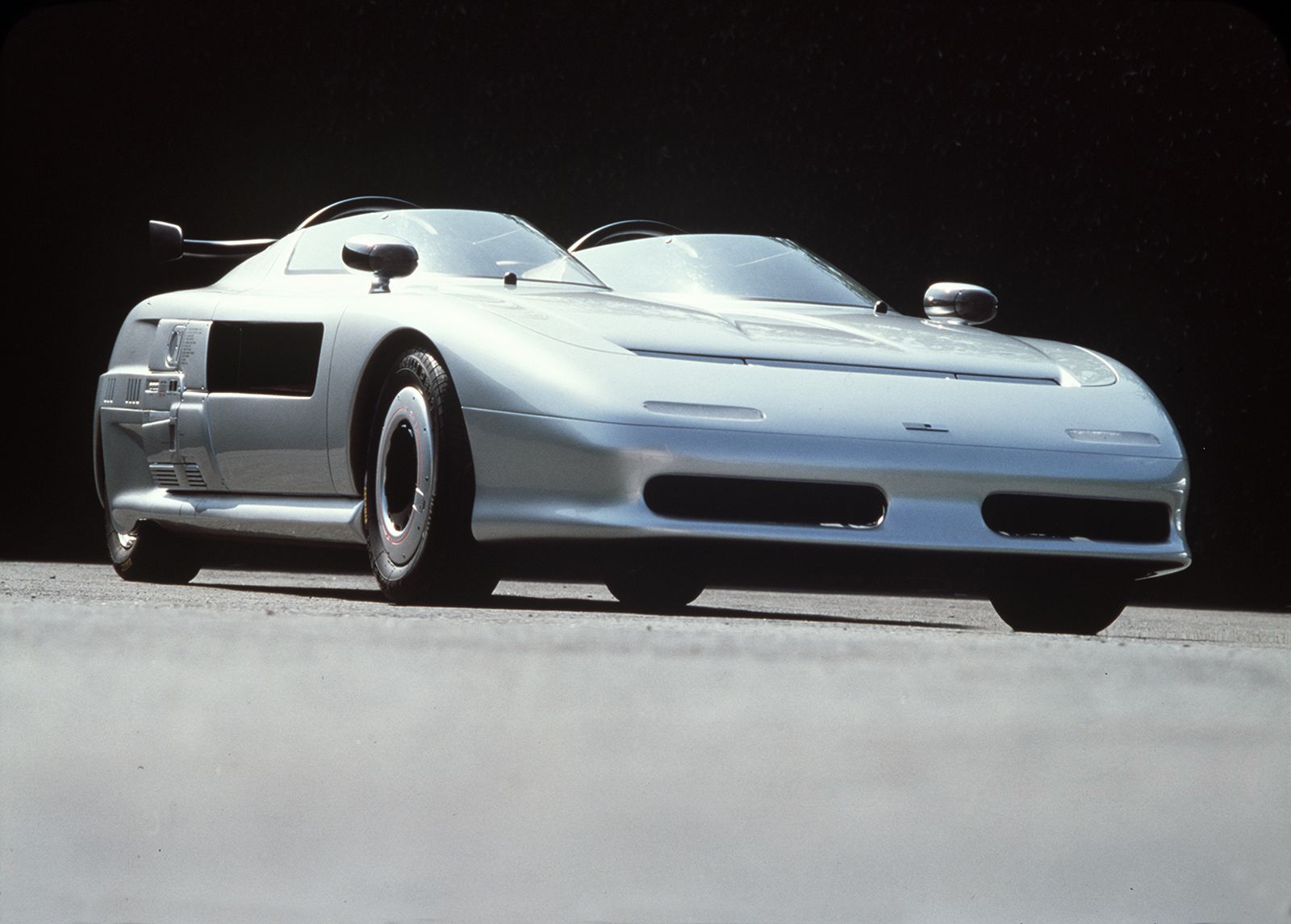 The first prototype of the trio formed together with the Aspid and Asgard to celebrate 20 years of Italdesign
The Aztec, introduced at the Turin Motor Show in 1989, met with exceptional acclaim by the press and public.
The original, innovative, concept heralded the approach that was to typify the 1990s:
rediscovery of a classic, recreational, collector's item, the return of open-top sports cars, roadsters, standard-production coupés, in other words the satisfaction of owning and showing off a product that was all about image.
The Aztec embodied the desire for a sculpted rather than a designed shape: its smooth metal is punctuated by graphic motifs, and a reworked mechanical appearance with the engine exposed and streamlined rear wheels. In a departure from conventional open-topped sports cars, the passenger compartment is divided into two symmetrical portions: the passenger also has a steering wheel that is actually a control console and not used for steering.
Control panels located on both side panels are accessible by entering appropriate codes. These provide information on engine oil level, coolant, brake fluid and a removable temperature gauge.
A hydraulic jack and a 12 V power point are also located on the right side.
A removable electric screwdriver, an electric torch, a compressor for inflating tires and a fire extinguisher are housed on the left hand side.
Access to the car is by opening the doors as usual and lifting parts of the cockpit upward.
Trivia
The Aztec's futuristic shape persuaded the US director Roger Corman to choose the car to start in a science-fiction horror film set in the Los Angeles of 2031, Frankenstein Unbound (1990). Together with the Machimoto and BMW NAzca C2, the Aztec also appeared in the Italian film A spasso nel tempo by Carlo Vanzina in 1996.
Another Trivia is hidden in the Frankenstein Unbound clip you can see: the bycicle the kids are burying at the end of the clip is actually the Bridgestone Blouson Giugiaro designed in 1985.
In this clip from Frankenstin Unbound the Aztec is visible at minute 6:16