Italdesign celebrates the three winning teams of the "Research Contest on Future Mobility in Cities" during a special night held inside the company's Headquarters in Moncalieri, Italy.
Launched last February with the Patronage of the City of Turinas part of the celebrations for Italdesign's 50th anniversary, the contest gathered together 88 projects from teams from 20 different countries.
The international jury awarded:
"The M.A.R2V. System" project by Roberto Monti, Alessandro Bianchi, Alessandro Consalvi, Andrea Rosellini, the 1st prize of 25,000€
"myCare" project by Marco Balagna Dena, Elena Verduci, the 2nd prize of 10,000€
"DOZE. SLEEP IN MOTION" project by Leonardo Caricato, is awarded the Jury Special Mention and 5,000€
We launched this contest last February to mark Italdesign's 50th anniversary, to open our company to creative young people from around the world and to better understand the world of new mobility – CEO Jörg Astalosch said – "We are thankful to all the contestants who participated from all over the world and to the distinguished members of the jury, it wasn't easy to pick the winners among these very interesting projects".
M.A.R2E.V., meaning Modular Autonomous Rechargeable Road Electric Vehicle, is a modular, autonomous shared transportation system, that allows the vehicles to pair and travel with multiple coaches or also separately; it is specifically designed for medium-size cities.
"Analysing cities of different sizes, we noticed how the medium-sized cities are generally characterized by low public transportation modal share. We are thus imaging a different future with the M.A.R2E.V. System project, which provide to medium-sized cities an innovative solution that can improve quality of public transport and life" – Roberto Monti from the winner team, said.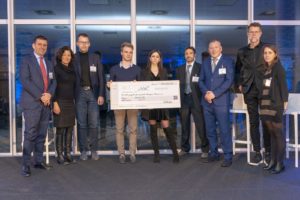 myCare, that won the second place, is a innovative system that allows citizens to receive directly at home – or wherever they wish within the city – medical drugs and devices. The special mention of the jury went to Doze, a concept of an autonomous, zero-emission electric vehicle, very compact, intelligent and affordable, envisioned for the year 2030.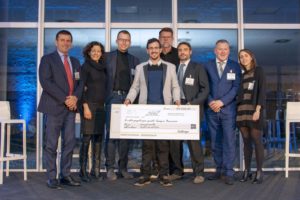 "I am happy to close this year celebrating our 50 years of work in the world of mobility – concluded Jörg Astalosch – with those who best represent the next 50 philosophy. Looking at the ideas and at all entries I have confidence in the power of progress that the upcoming generations are bringing to mobility".
The jury:
Pierpaolo Antonioli, Managing Director of the General Motors engineering center located in Torino (Torino Polytechnic Campus), since September 2009. GM Torino has global responsibilities for the development of Diesel Engines, Diesel Electronic Controls and Diesel Hybrid technologies for passenger car applications for the whole GM Corporation.
Klaus Busse, Head of Design for Fiat, Abarth, Lancia, Alfa Romeo, Maserati at FCA Fiat Chrysler Automobiles. Born in 1969, has been Vice President of Design for FCA Europe since October 2015. Klaus started his career with 10 years at Mercedes-Benz design in Germany. In November 2013 he received the Automotive News All-Star award for design and in January 2015 the Industry Innovator of the Year award.
Stefano Musso, Research Fellow Department of Control and Computer Enginereeing – Politecnico di Torino.
Roy Kalawsky, Professor of Human-Computer Integration and Systems Engineering at Loughborough University, UK, He is Director of the Advanced VR Research Centre, and was recently awarded the Airbus Endowed Chair of Data and Digital Engineering Information Systems, Before joining Loughborough University in 1995 he was Head of Cockpit Research at BAE Systems Military Aircraft.
Iain Macbeth, Head of Foresight for the Transport Innovation Directorate at Transport for London (TfL), responsible for emerging mobility trends. Ian sits on the UK Automotive Council Technology Group and European Commission GEAR2030 Group, developing the roadmap for automated road transport.
Paola Pisano, Deputy Mayor for Innovation and Smart City at the City of Turin. D, Professor of Management of Innovation at Università degli Studi di Torino; Responsible of Smart City Laboratory at Centro di Innovazione tecnologica multidisciplinare dell'Università di Torino (ICxT).
Jörg Astalosch, CEO Italdesign, begins his career within the Volkswagen Group in 1988 in Wolfsburg. He worked within the Volkswagen Group ever since. From 2012 to 2014 he was Chief Financial Officer at MAN Truck & BUS AG. From mid 2014 to 2015 he worked directly for Volkswagen Group's Supervisory Board Chairman and joined Italdesign in September 2015.